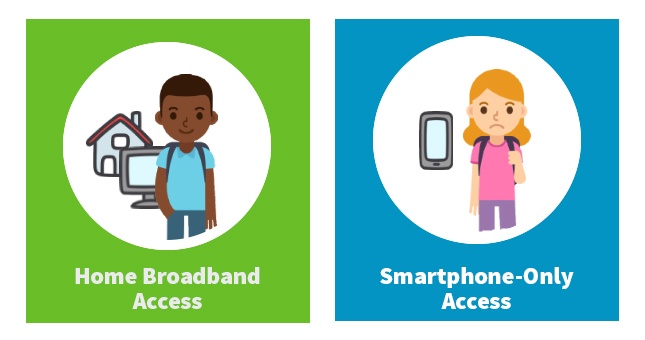 Ninety-four percent of families report having some kind of Internet connection, according to a survey by the Joan Ganz Cooney Center at Sesame Workshop. But what does the "some kind" of connection actually look like?
Twenty-three percent of families from the survey report having smartphone-only access at home (without a computer/laptop). Those families report the following issues:
29% have exceeded their data limits on their mobile phone plan
24% had their service cut off due to the inability to pay
21% report too many people share the mobile device to have enough time on it
Therefore, the "some kind" of connection varies by household, and may not even be consistent access. Even of the families with home broadband access, 52 percent report their Internet service is too slow.
And how do these connectivity issues impact students?
Students and At-Home Internet
According to the report, children between ages six through 13 with mobile phone-only access are less likely to:
Play digital educational games
Do homework on the computer or Internet (question only asked of parents with children ages 10-13)
Look up things they are interested in online
Use the Internet or computers on a daily basis
According to the FCC, seven in 10 teachers assign homework that requires Internet. While these students may have a connection with a smartphone, it is hindering their ability to complete everything the same as a student with a laptop or computer.
Further Access Challenges Facing K-12 Students
In addition, immigrant families are less likely to have a broadband Internet connection or devices that provide access, according to a separate connectivity report from the Joan Ganz Cooney Center. Only 34 percent of Hispanic immigrants report having access to broadband at home and just 63 percent have a computer.
Despite these connectivity challenges, immigrant families are more likely to prioritize tech purchases to help their children's education.
Forty-three percent of Hispanic families report purchasing a device to support their student. And, 88 percent say their child plays educational games on the device, with 65 percent using the device directly for school projects.
Tech in the Classroom and at Home
Technology has – and continues to – expand learning possibilities for all students. The Office of Educational Technology updated their National Education Technology Plan (NETP) for 2017 and emphasized the importance of technology for learning.
Technology has the power to accelerate and expand on learning practices. The NETP lists out five reasons as to how technology impacts learning, including:
Personalized learning. Educators can more easily tailor lessons to students' interests and optimize the lesson for their particular needs.
Real-world and project-based experiences. Digital devices and resources can transform a simple research project into an interactive, online forum that continues the discussion.
Move beyond the traditional classroom. A variety of resources are now available digitally for students from museums, libraries, or other educators from across the country.
Personal interests. Similar to personalized learning, technology allows for students to pursue their passions and interests in an educational manner where they still learn the day's lesson.
Transformative learning, once the digital divide is closed. No matter where the learner is, with digital equity, students can learn anywhere.
Educators can take technology and transform their curriculum to engage and excite their students. Digital tools offer the flexibility needed for the modern classroom.
However, the report notes that transformative technology can only be available to all once the digital divide is addressed. Before technology can change learning at home, students need to have equal access to their peers. Intermittent access via a mobile phone does not provide students the same access to Internet and digital tools that they experience inside the classroom.
Imagine trying to conduct research and write a history paper with just a phone. Or a student wants to collaborate with a peer on an English project. It would be pretty difficult to use the phone to talk to their partner, use their Google Drive, along with viewing other digital tools they need to complete their assignment.
Connectivity Outside the Classroom
The NETP report and countless others have pointed out this growing Homework Gap – driven by an increase use in technology in the classroom, but an unequal distribution of technology access at home. With five million houses that lack broadband access for their school-aged children, there needs to be a solution.
And as we've seen, most parents have some sort of Internet connectivity, but access with a cell phone is not providing students the full experience they need to keep up with peers.
Here's where Kajeet comes in.
With Kajeet, schools can provide their students with SmartSpot® devices (Wi-Fi hotspots). These devices enable students to connect to the Internet anywhere, anytime, and on any device.
The device is filtered through our innovative cloud portal, Sentinel®, which uses CIPA-compliant filters. That means students are focused on learning with educational sites – no streaming videos, gaming, or anything inappropriate.
If your school is 1:1, or provides device check-out through the library, all students can have equitable access. Schools and parents working together will help close the growing Homework Gap and ensure all students have equal access at home.