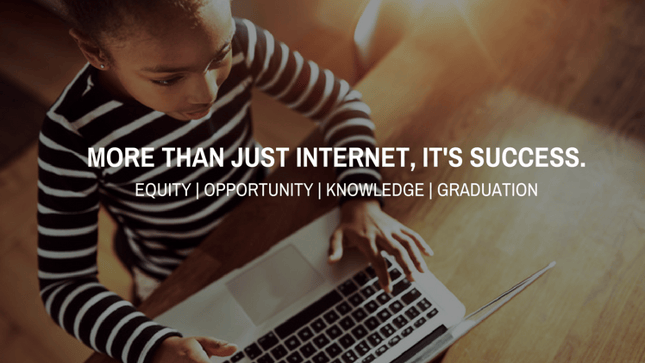 More than just Internet.
Four simple words that, for us here at Kajeet, sum up our mission and our goals. These words are also a brand promise from us to you: that with our safe, mobile broadband access, students and school districts get more than just Internet access. They get tools. They get guidance. They get support.
They get success.
Three Powerful Stories
All company taglines start somewhere. For us, it began with several powerful, real-life stories from high school students at a 2015 school board meeting in Lawrence Public Schools, Kansas. These student stories illustrated why Bring Your Own Device (BYOD) programs only exacerbated digital inequality in schools. The key to truly changing these students' lives: access to school-provided devices.
A well-rounded student. One student said all her after-school hours were spent "chasing down Wi-Fi" to finish pressing school assignments. As a result, she couldn't participate in extracurricular activities that interested her. But with Kajeet's SmartSpot® device, which gave her consistent Internet access, she had more free time on her hands to enjoy out-of-school activities.
An informed family. A big hurdle facing families in school districts across the country is the language barrier between parents and educators. One student said that, thanks to Kajeet's devices, she could finally translate her school district's website for her non-English speaking family. As a result, the entire family was better informed about what was happening at her school.
An empowered voter. Months shy of her 18th birthday, a student said she was finally looking forward to voting in her first U.S. presidential election. Using Kajeet devices, she was easily able to research the candidates online and catch up on political news she missed while working her after-school job.

What Our Tagline Means
Visit our homepage and you'll see for yourself just how dynamic our new tagline is meant to be. By rotating among several different ways in which we provide you with more than just Internet, we aim to illustrate how Kajeet devices offer more benefits than simple Internet connection.
Equity. More and more, digital learning is becoming a core part of K–12 education. Which means students and families without access to broadband Internet outside the classroom are often left behind—and can quickly find themselves caught in the Homework Gap. With Kajeet devices, however, students and families can finally get the digital access that gives them equal tools for an equal chance at learning and succeeding.
Opportunity. With reliable, safe Internet access comes a host of new doors that can open to once-thought-impossible futures. At Kajeet, we aspire to unlock opportunities for students who use our devices. And not just students, but educators and school districts as well.

With increased connectivity comes increased opportunity for districts to enhance their tech programs and explore new methods of digital learning.

Knowledge. As the saying goes, knowledge is power. And increasingly, more of that knowledge is being uploaded and accessed on the Internet. From interactive videos and learning apps to digital study guides and online research materials, Kajeet gives students access to hidden worlds of information and insight. And with this more engaging, dynamic material, they can vastly expand their understanding of the world around them.
Graduation. Disadvantaged students are in a precarious position when it comes to graduation. With 30 percent of high school students using the Internet to complete their studies, 24/7 access is essential to a student's chances to graduate. With Kajeet devices, districts see higher graduation rates, thanks to students who can more effectively complete their homework, study for tests, and make the grade.
Success. Ultimately, Kajeet

is about achieving lasting success. It doesn't matter who you are: a student struggling with homework, an educator looking to keep students engaged, a

parent trying to get more involved in a student's life

,

an administrator looking for

better data on student Internet use

, or

a district aiming to

decrease bus behavior incidents

. Because success is what you're after, it's what we're after.


It's more than just a tagline. Discover for yourself how Kajeet's Education Broadband™, SmartSpot® and Smartbus™ devices, and Sentinel® administrative portal can transform your school district.