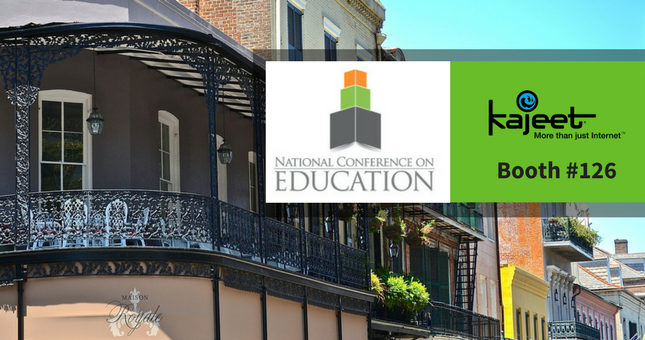 The National Conference on Education (NCE), presented by AASA (The School Superintendents Association), commences on March 2 in New Orleans for school superintendents. Of the major conference themes, we're most excited to learn more about personalizing education, leadership and innovative technology.
We created a quick guide of sessions for you to add to your list. When there is a break between sessions, stop by booth #126 to learn how Kajeet is connecting students to Internet outside the classroom to help them succeed.
Thursday, March 2
If you're looking to become a 1:1 district, or seeking advice and examples, we recommend the "Redefining Ready: Transforming Learning in a 1:1 District" session. This 1:1 iPad district has transformed teaching and learning as they work toward preparing every student for success. Their Redefining Ready mission has created a collaborative environment for both staff and students. Attendees will also receive a link with examples and resources to help your district become future-ready.
Personalized learning and 1:1 tend to go hand-in-hand. Whether you're a 1:1 district or have shifted to personalizing education, it will be helpful to attend the "Personalized Learning: Perspective from an Award-Winning District," session. Dr. Devin Vodicka, superintendent of Vista Unified School District, CA shares the blueprint his district developed to create a culture that supports design thinking and personalized learning at all levels.
And as we continue to move to 1:1 and personalized learning for students, it's important to also address the Homework Gap. Join the "Innovative Strategies to Close the Homework Gap" and hear from Kajeet customer, Dr. Vodicka with Vista, along with superintendents Pam Moran, Albemarle County SC, Charlottesville, VA and Darryl Adams, Coachella Valley USD, Thermal, CA. These leaders are taking action for digital equity despite the 75 percent of districts report not taking any action to address it. To learn more about closing the homework gap, download our informative eBook here.
Friday, March 3
Start off your Friday sessions with some Virtual Reality (VR) fun. Attend the "Superintendent Perspectives on Virtual Reality Learning Environments" session to discover how these three superintendents have added VR to their districts. You can learn about the benefits, opportunities and future considerations for this program. The panel will address:
What happens when the WOW wears off?
Doesn't VR create isolation and remove students from the learning environment?
Will VR be the most effective pedagogy for improving STEM education literacy and competitiveness in tomorrow's workforce?
There's no better way to close out your Friday session than discussing a 21st-century district. Ken Kay, CEO of EdLeader21 leads the "Advice to New Superintendents: Creating a 21st-Century District" session focused on transformational work to prepare students for 21st-cenutry life. Learn about vision, pedagogy, assessment, continuous improvement and leadership from Kay in conjunction with Kelly Lyman, Assistant Superintendent of Schools, Pomperaug Regional School District 15, Southbury, CT.
Discover more sessions with the NCE onsite guide and don't forget to meet the Kajeet team at booth #126.