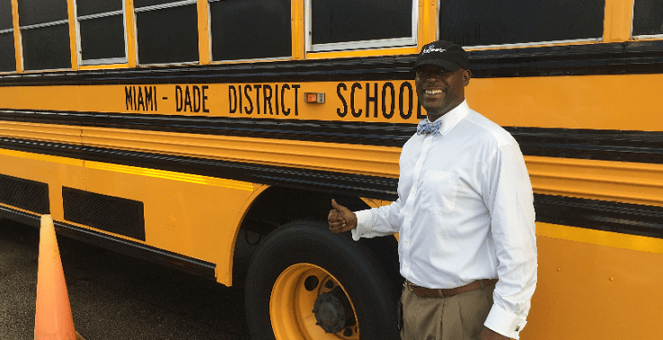 By Charles Askew, Kajeet Senior Director, Eastern Region
As a former district and school administrator, I recognize the beginning of school as always being stressful--from getting the building(s) ready, to last-minute staffing changes, to finalizing students' schedules. No matter how hard we worked – sometimes 14-hour days– there was always a sense of pressure and stress.
I was fortunate enough to be able to attend the Miami-Dade County Public School Transportation test run last week with Superintendent Alberto Carvalho as he announced this year's plans for the school bus fleet. I admit to being part of the same invigorating excitement around the preparation for the first day of school that I remember from the past. It was clear that the Miami-Dade team was emotionally ready to begin the school year. As drivers entered the building, they were smiling and joking with each other . . . and there was no shortage of hugs and handshakes.
Who would have thought riding the school bus would still be so much fun after all these years, and now the buses have Wi-Fi. During our drive around town, Carvalho spoke passionately about how the buses this year would include GPS, Wi-Fi and flex stops. He outlined how many students in their district rode the buses--some more than an hour--to reach their school. Now with Wi-Fi on buses, MDCPS student have access to instructional content beyond the school day. Those of who ride public transportation to get to and from work, often appreciate that extra time to prep for a meeting or read a report from the boss. Why shouldn't students have that same opportunity?
In one conversation a bus driver asserted, "As much time as our students spend online, with Wi-Fi on the bus, I expect the ride home to be a lot quieter than last year." But I suspect that may not be true. I know we were 'giddy and loud' and posting endless selfies.
Rarely do we take note of the big yellow school buses until they're absent. We notice traffic lightens when school is out of session and the buses aren't on the roads…and we all notice when our child's bus is late or doesn't show. But I've never looked at the bus as an extension of the school day, but rather a signal to the end of it. Well, Carvalho turned that limited perspective on its head. He explained how each of these technological improvements was designed to remove the barrier of time and space. In other words, extend the school day. Carvalho shared a vision of inclusion that rose above the simple installation of technology. In Carvalho's vision, each and every student will have multiple ways and means to connect with their instructional content. Each and every student will have equitable access.
The MDCPS team believes the key to student success is time on task--the more time on task, the greater the measurable outcome. The filtered Wi-Fi on the buses isn't intended for students to watch movies and stream movies. The technology powers the safe connectivity which gives teachers and administrators a level of visibility they have never experienced with qualitative and quantitative data into student usage.
In my mind, the true value of Miami's initiative is that the district has made it safe to experiment and innovate for the purpose of increasing student measurable outcomes. Innovation, evaluation and determination, and commitment are the descriptors that most effectively describe the MDCPS team. This pilot should inspire other districts to consider 'increasing time on task' by bridging the digital divide.
With this available access, students have yet another opportunity to intersect with their instructors and extend their learning day. Another step towards bridging the homework/achievement gap and the connectivity divide.