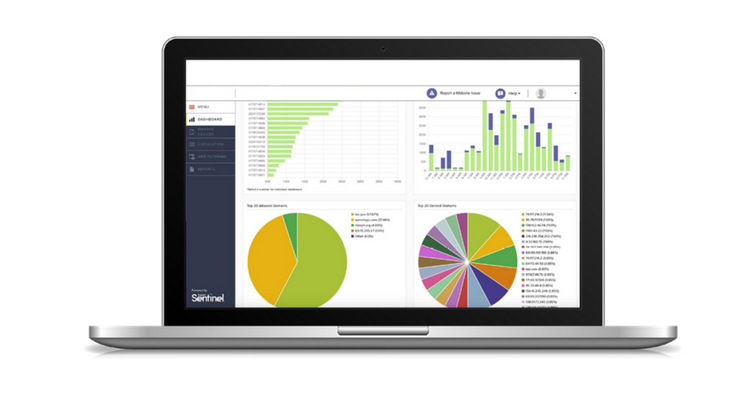 Since 2016, there have been over 353 reported cyber incidents in K-12. This number from K-12 Cybersecurity Resource Center has increased by 20 since the last time we referenced the Cyber Incident Map.

Students are the largest contingent of network users in K-12, but they don't receive security training for device usage and connectivity. Also, when students are unsupervised, they tend to wander to entertainment or social media sites.

Educators should be able to confidently report that school-issued devices are used for educational purposes only. That's where Kajeet comes in. We are excited to announce an all new user interface (UI) for Kajeet Sentinel®, the connectivity cloud portal.

Our educator users have provided continual feedback, and we've been listening. Welcome to More Than Just Internet™.
More Intuitive Dashboard
The Sentinel dashboard provides an easy-to-read overview of the school or district account. The account summary is a quick glance of active versus suspended devices, along with the amount of data remaining on the account.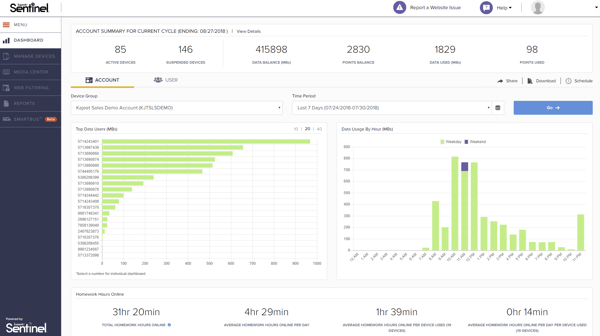 Sentinel users will also see the total number of hours students have spent using the Kajeet devices to access educational websites. The new dashboard displays this data with interactive graphs, making the data easy to understand.

You will also have assurance that students are only accessing the websites your school allows. You can view the top educational websites visited, along with the top denied domains, for those who try to get around the Kajeet filtering and fail.

"The new [Sentinel] dashboard runs much faster and is very smooth-looking," said Tim Elkins, device inventory administrator for Cincinnati Public Schools.

Enhanced Functionality
The intuitive design does not stop at the dashboard. Drill down to an individual student device to see their specific usage such as time spent online and the time of day they use the Internet connectivity most. This provides educators an opportunity to check on an individual student's progress and see if they're visiting the websites suggested by teachers.
"I like being able to pinpoint all the dashboard info down to one [student] user if necessary, without running a separate report. Also, managing devices is much easier to use with the bulk actions available."
- Tim Elkins, device inventory administrator, Cincinnati Public Schools
If you need to update multiple Kajeet SmartSpot® devices by adding more data, bulk changes can be made to a group of devices, with fewer clicks.

If your school or district checks out devices through a media center or library it is now easier than ever with our updated Media Center tool. Your librarians can save time and focus on helping students with tech questions and resources.
Student Device Usage Metrics
Lastly, we know and understand the importance of metrics, especially for educators with tight budgets and reporting requirements for their ed tech tools. The updated Sentinel makes reporting quick and easy.

Track your program success with a variety of reports such as: device usage, web traffic, and detailed account insight. Or create reports per student to evaluate individual progress.
How This Dashboard Benefits K-12 Educators
"Educators need the ability to effectively report on student performance and how ed tech tools impact their success," said Kajeet CEO and Founder Daniel Neal. "Our latest release will help school administrators better support and protect their students as the K-12 environment becomes more connected and educational resources continually move online."

With the refreshed Sentinel platform, connecting students to Internet outside the classroom has never been easier. Get a quick overview of your Kajeet program, and send reports to yourself or anyone in your district who is looking for metrics. If you're interested in learning more about Kajeet, let us know.