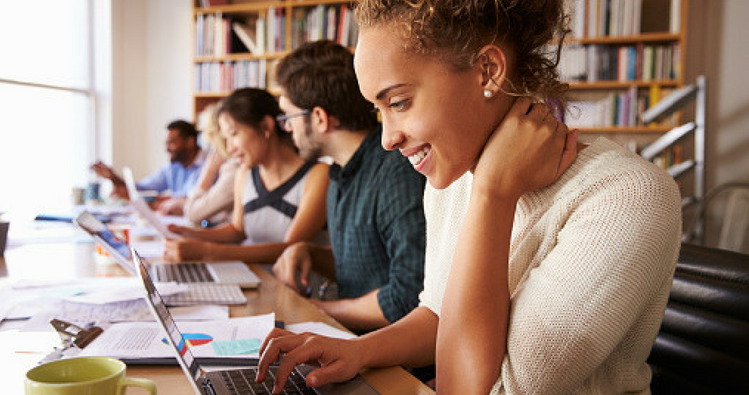 If you're sitting in a public or school library 20 years ago, what would you see?
Chances are, you'd see shelves upon shelves of books and a card catalog to find that book. Maybe a quiet reading room, a cluster of study carrels and desks. Perhaps a few computers with basic Internet access.
Whatever you're imagining or remembering, it's certainly nothing like the tech hubs libraries today are increasingly becoming. Rather than relegating educational technology to classrooms, today's libraries integrate tech into the same services they've always provided the community – a wide range of resources to support learning and exploration.
And the results look promising.
Such as this story from Cypress-Fairbanks Independent School District in Texas. This school district works with Kajeet to provide filtered, Internet access to students at home, and their librarians have taken full ownership to help their students succeed.
Case Study: Beaufort county library
Take South Carolina's Beaufort County, for example.
To support the school/community needs, the school district provided middle school students with a laptop for their schoolwork. But not all students had access to the same safe, reliable Internet at home. So where did students go after school in order to finish their homework and study for tests and quizzes?
That's right. The local library.
Because Beaufort County Library provides its community with public Wi-Fi, students would often come to the library for Internet access—even well after library hours.
Students were in our [library] parking lot using our Wi-Fi, sometimes until midnight doing homework. We saw a need. This was our project to address that need.

Ray McBride, Library Director, Beaufort County Library
Partnering with the school district to identify students in need of Wi-Fi, the library began a pilot program in which they issued 10 Kajeet SmartSpot® devices available for student check-out on a monthly period. This program soon expanded to include 40 more educationally-filtered hotspots.
Read the full story of Beaufort County Library to learn more about how the institution took matters into its own hands to help students obtain access to digital tools , providing anytime, anywhere access.
Librarians leading the way
The kind of learning environment a library has depends, first and foremost, on the assessments and drive of the librarians who help run them. As the go-to person for educational resources, librarians are well-suited to assess which ed tech tools will be most beneficial to students.
One librarian, April Wathen at Maryland's George Washington Carver Elementary, sees her library as a "learning commons" where one of her roles is curating quality educational technology.
In a personal essay for eSchool News, she writes:
When I went to library school, I never thought about the library as the place to grow relationships, harbor creativity, and inspire empathy and critical-thinking skills. I looked at it as a way to put great books in students' hands and help teachers out when they needed it. People may not realize that libraries can facilitate global connections. There is power in libraries.
Wathen offers school librarians three of her personal best practices, two of which directly involve ed tech.
Her first piece of advice: Use technology to meet students where they are. It's not enough to just use the technology for learning. A well-rounded student knows how the technology works, and why it's so beneficial to learning in the 21st century. And librarians can serve as the connecting piece for students reaching that 21st century knowledge.
Another tech-related piece of advice involves partnering with the entire community to successfully integrate technology into the everyday learning lives of students. This, she notes, is the foundation of great work.
If we build positive relationships with students, staff, and administration and work to build local, state, and national-level partnerships, there is no limit on what we can do to provide students with a nurturing environment for learning.
For more on why today's librarians are so critical to making schools future-ready, check out our blog post on these 21st century ed tech pioneers.
More than just books
What does the ideal, tech-savvy, student-friendly library look like? It doesn't necessarily have to be equipped with a 3-D printer or VR headsets—but it does need to demonstrate a willingness to recognize the increasingly important role technology plays in how students learn.
According to a column in The Hechinger Report by Chris Berdik, books have their place in libraries—but so does technology.
"Getting kids reading is still a huge part of what we do here. But the library has to be more than a place where they come in and get their books and leave," said [Oregon's Mountain View Middle School Library Instructional Technology Teacher (LITT) Steven] Lent, who spent the last year, his first as a LITT, opening up the library, adding more power outlets and a wireless projector, and repurposing an adjoining room that had been a cramped computer lab into a maker space with Lego robotics, iPads, and circuitry kits.
Changing with the Times
As the demands of education today require new ways to learn technologies (and the Internet access required for them to operate), libraries remain just as essential as they ever were.
Just as schools are changing with the times, so are libraries. And they remain the place you go when you want to learn something—whether it's in the pages of a book or on the screen of your personal laptop.
So it seems that age-old advice told to the curious still matters in today's tech-savvy world: If you want to know something, go to the library.