On average, school bus technicians are responsible for maintaining 21 school buses, including the maintenance, repairs, and inspection of each part of the school bus, according to the School Bus Fleet 2019 Maintenance Survey.

Yet 51 percent of school districts do not use a maintenance software.

How do technicians make critical decisions regarding an engine warning light coming on while a school bus is out driving students? They have no way of knowing if that problem is severe or merely routine maintenance without immediately driving out to that specific bus.

Without a remote telematics solution, a technician would need to:
Locate the school bus either through a GPS solution, calling the bus driver, or pulling out the trusted map to determine where on the route the bus has stopped.
After arriving at the school bus, plug their laptop or a code reader into the bus to determine what fault code turned the dashboard light on.
Research the specific warning code to determine the problem and possible solutions.
Purchase or locate a replacement part, fix the bus, then send it back on its way.

Or, by using a remote telematics solution, the technician could look on their computer and fully understand the problem, the cause, and be provided possible solutions.
School Bus Maintenance Software: Real-Time Information, Every Time
Kajeet, with the OnCommand® Connection Advanced Remote Diagnostics solution, provides the telematics information K-12 transportation departments need to make critical decisions regarding the severity of school bus engine lights. Find out more about this solution through this OnCommand Connection video.

The Transportation Director or Maintenance Supervisor will see a notification on their telematics dashboard with fault severities with the Kajeet and OnCommand Connection telematics solution, .

Here is that earlier scenario, but this time with a remote telematics solution in place:
The dashboard shows fault severities: One bus shows a stop now fault.
A Fault Code Action Plan (FCAP) provides the Maintenance Supervisor a recommended action plan based on the specific fault code.
The Maintenance Supervisor can then determine the possible parts and labor steps they need to take to get this school bus back up and running.
Using the GPS on the dashboard, a technician can drive out to the exact bus location immediately and address the engine problem.
A remote telematics solution keeps transportation departments in the know, consistently. With telematics, you can automatically know what is wrong on the school bus and how to handle it, in real-time.
Preventative Vehicle Maintenance, Not Reactive
However, it is also much easier, and more cost-effective, to perform preventative maintenance instead of reactive maintenance.

The Advanced Remote Diagnostics Dashboard shows the latest engine scans to reveal any fault severities across your fleet, no matter if you have five school buses or 100.

With the dashboard, transportation departments can take action sooner to help prevent those "stop now" faults. Teams can receive instant email alerts, weekly alerts, or any variation of custom reports to stay on top of all school bus maintenance problems.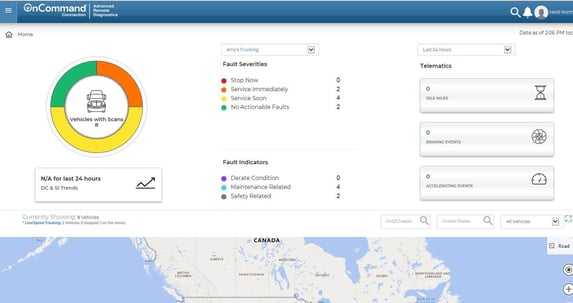 Another helpful feature of this school bus maintenance software is health reports provided for each school bus. The health report provides the detailed information regarding the actual code based on the warning light. Smaller maintenance departments can use the health report as a tool to determine whether they can handle the problem on their own, or if it is a larger problem that will require additional help.

However, school bus maintenance software goes even further than sending alerts from warning lights. The OnCommand Connection solution also includes bus driver behavior tracking.
Monitor Bus Driving Behavior for Accountability
Part of the telematics solution that is plugged into the school bus includes an accelerometer, which is a device that measures proper acceleration. This tool provides driving behavior information back to Dispatch through the dashboard, including:
Idle miles
Braking events
Accelerating events
If a bus driver is spending a lot of time idling, that could be an indicator of the bus driver going out too early for their route in the morning. Idle miles also wastes fuel, and therefore a school district's money.

If a bus driver is showing repeated hard-braking or fast acceleration, their driving could be reckless, and unsafe for students.

Bus drivers have a huge responsibility transporting students to and from school and events, so it's critical that they follow standard driving safety procedures.

While we've discussed telematics as a school bus maintenance software, this solution can provide telematics for more than just school buses.
Telematics for K-12 White Fleet Vehicles
When you think of transportation departments, the first thing that comes to mind is a big yellow school bus.

But, as many of you know, transportation departments also include what is called white fleet vehicles.

The average fleet composition for school districts is 70 percent school buses and 30 percent other vehicles, according to the School Bus Fleet 2019 Maintenance Survey. Other vehicles include maintenance trucks, vans, cars, and tractors.

These vehicles also need remote telematics to help with overall maintenance. White fleet vehicles often travel between schools across the district and experience the same engine warning lights.

The Advanced Remote Diagnostics kit can include a cable that plugs into the OBD-II connector to provide the same telematics information to house all of your vehicle maintenance information in one dashboard.

Move away from that manual process and implement the remote diagnostics telematics solution to keep your vehicles, from school buses to vans, out on the road and running smoothly.

To learn more about the Kajeet and OnCommand Connection telematics solution, contact us here!