The enthusiasm and excitement from the ISTE conference was contagious, and our team came back from Philadelphia super charged! We met more than 300 of our customers and biggest fans.
Bus to ISTE
The fun began before the conference even started. On Saturday, we followed the tweets from an eager group of Maine educators who began their 10-hour road trip to ISTE. Along the way, they picked up fellow educators in Rhode Island. We enjoyed seeing the fun (#ISTEbus) as they raffled off prizes and played Bingo. Kajeet provided them with two Kajeet SmartSpot devices for broadband along the way. It was a nice way for them to demo our solution.
Busy Expo Days
Booth visitors were drawn to our delicious cookies and our dynamic team. But the biggest surprise was the excitement around our contest. The expo floor was dotted with blue Kajeet shirts as our fans awaited being selected as hourly winners of Samsung tablets.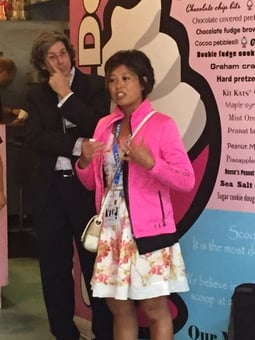 Here are a few things we heard at ISTE:
"Kajeet, you're my dream come true!"
"You mean, we can provide filtered Internet access at home for as little as $300 per student per academic year."
"Distributing MiFis from the library as students need them is brilliant. I can reach more students and extend my budget."
"Wait, you're on the Verizon network now. Great!"

"You filter out Netflix and Pandora? That will save me money and keep students on task."
Ice Cream Social
Tuesday evening, after a torrential downpour, we hosted our customers, prospects and their guests to a special event at Scoop DeVille. Three customers gave testimonies to how they are helping bridge the homework gap in their districts.