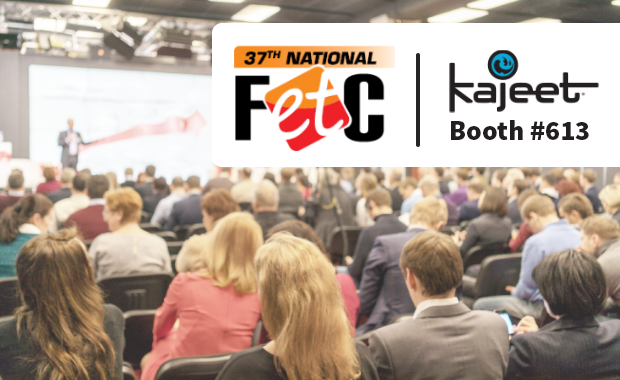 The 37th Future of Education Technology Conference (FETC) is just one week away and the Kajeet team–including our beloved Homework Gap Heroes–can't wait to attend to start another tradeshow season with FETC. Over 8,000 educators will be gathering in sunny Orlando, Florida, from January 24-27 to learn about the latest edtech strategies to improve student success.

Over 550 expert-led sessions are on the schedule this year. With so many great speakers, it makes it hard to decide which ones to add to your list. Here are a few sessions on our must-see list.
Broadband Connectivity for Learning: Addressing K-12 Education Infrastructure Needs at Scale
Thursday, January 26 | 10-11 a.m.
Today's policymakers understand how bandwidth capabilities can impact digital resources used by districts and schools. If a school wants to bring in a 1:1 program, then the school needs to have fast, reliable Internet connectivity. If devices are being sent home with students, then the students need to have access to Internet outside the classroom.
This session focuses on recent trends in broadband implementation, including the increased Federal Communications Commission support, and recommendations for K-12 educators. Hear from school directors themselves, such as Eric Hileman, executive director of information technology, Oklahoma City Public Schools.
Oklahoma City Public Schools was the first in their state to implement Kajeet SmartSpot® devices, helping bridge the Homework Gap that was growing due to an increased use of technology. The principal at one of the Oklahoma schools, Aspasia Carlson (@AspasiaCarlson), said, "We have really brought these hotspots to our students to take care of the equity gap for our kids."
Add this session to your agenda to hear from four states and how they addressed broadband connectivity issues.
Leading a Technology Initiative that Has Little to Do with Technology
Friday, January 27 | 1-1:40 p.m.
Nichole Lemmon, director of blended learning, Springfield Public Schools, Missouri leads this session focused on teaching and learning. Missouri's largest school district deployed 25,000 devices to students, laptops and wireless displays for teachers, plus provided Internet access outside the classroom to low-income families with the Kajeet SmartSpot devices. Learn more about how Springfield made this happen, and bring your questions to the session.
The EdTech Fun Doesn't Stop There
Still looking for additional helpful edtech presentations to add to your FETC experience? On Thursday afternoon, we suggest checking out A Space for Design to hear a learning space design story. The speaker, Manuel Herrera, coordinator of 1:1 programs at Affton School District, implemented a 1:1 program without creating a digital divide. Successfully adding a 1:1 program is a topic on educators' minds as we continue into this modern age and make learning spaces digital.
Thursday afternoon is jam packed with great sessions, including Extreme Makeover: Designing Space for Learning that continues the learning space conversation. Educators will learn how to create a collaborative environment that inspires creativity in students. Explore how to create a digital space for collaboration from Richland School District Two.
Additional sessions you won't want to miss:
Come stop by booth 613 to say hi to the Kajeet team and discover your Homework Gap Hero identity.