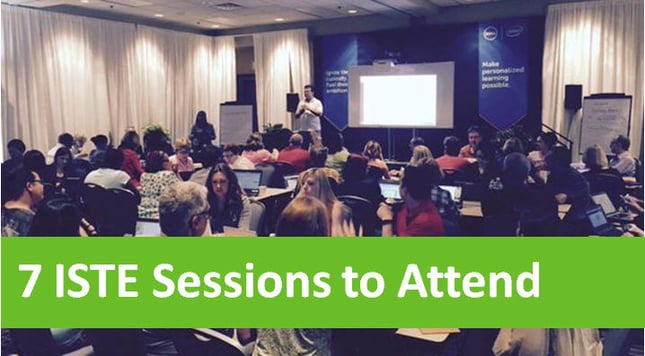 We are less than a week away before the ed-tech community converges at the biggest show of the year — ISTE 2016. While ISTE is the perfect time for us to meet with customers, prospects and hear stories about the successes in your districts and schools, we must admit the sessions are also fun to attend. This is where we get to the heart of what we do. It's where we learn about the constant challenges districts face, as well as understand how schools are making a difference for their students
Our team picked the sessions that are "must attend" for this year. Here are our top 7 picks:
Monday, June 27, 12:45-1:45 pm
Blended Learning is all the rage right now and rightly so. It's a holistic way to include both online and in-person learning. We're seeing so many of our school district partners successfully launching Blended Learning in their schools, and as a result, they are seeing great success.
Presenters represent MSD Wayne Township (Indiana), MNPS Virtual School (Tennessee), Metro Nashville Public Schools (Tennessee) and Elmore County Public Schools (Alabama).
Wednesday, June 29, 8:30-9:30 am
Understanding current wireless standards--both on and off campus--is critical for districts. In this session, Quakertown Community School District will discuss the impacts of 1:1 and BYOD on the district's resources, and how to best plan and manage for those devices that you have little to no control over. It's hard to launch a technology program without the right infrastructure. This should be an informative session.
Presenters represent Quakertown Community School District (Pennsylvania).
Tuesday, June 28, 2:15–3:15 pm
Learning about best practices and mistakes made should be more fun as a Rock Star Shred session or game show. During the "Oh no, I need to tell the Superintendent what?" and "Where's my Parade or Statue?" discussion segments participants will dual with one another to showcase rapidly what mistakes they made, how they alleviated those issues, and what great successes they saw during their 1:1 program.
Presenters represent Asbury Park School District (New Jersey) and Union School District (California).
Saturday, June 25, 2:00 p.m. - 6:00 p.m.
This is the fourth year ISTE is hosting the Mobile MegaShare pre-conference session. Attendees collaborate with educators from across the globe for a share-and-learn forum with experts facilitating 45-minute sessions with short breaks for networking. One session "Ensuring Equitable Access Across Schools and Districts" will be hosted by Michael Flood of Kajeet. He will talk about the work Kajeet is doing with our 200 school district partners around the country. If you are in town early, this session will be worth your time.
Wednesday, June 29, 11:45 am–12:45 pm
Technology departments should be embraced! In this session, facilitators will compare and contrast the passion that makes teachers successful and pose the question, "Why would we not want this same passion in our technology departments?" During this 30-minute presentation, attendees will learn how to create a different work environment with small simple changes. In addition, attendees will learn the value of having a written and visionary "why", and how to live that vision.
Presenters represent Milton School District (Wisconsin).
Wednesday, June 29, 11:45 am–12:45 pm
This panel will explore challenges facing superintendents, principals and supervisors of curriculum and instruction in urban, suburban and rural settings as they roll out technology. One question the panel will address is: "What data do you have that shows the success of your own leadership and/or technology implementation in the digital age?" We can't wait to hear the discussion around that topic.
Presenters represent Asbury Park School District (New Jersey), Waterford Township School District (New Jersey), Salisbury Township (Pennsylvania).
Tuesday, June 28, 10:45–11:45 am
Ever wonder what it'd be like to speed date your way through 1:1 implementation? You'll start out with a four corners game, then rotate through stations speed-dating style. Discover how Chesterfield County rolled out Chromebooks to 34,500+ students. What is exciting is the district brought its team along for the presentation. Relationships and communication with cross-functional teams are critical to the success of any program.
Presentors represent Chesterfield County School District (Virginia).