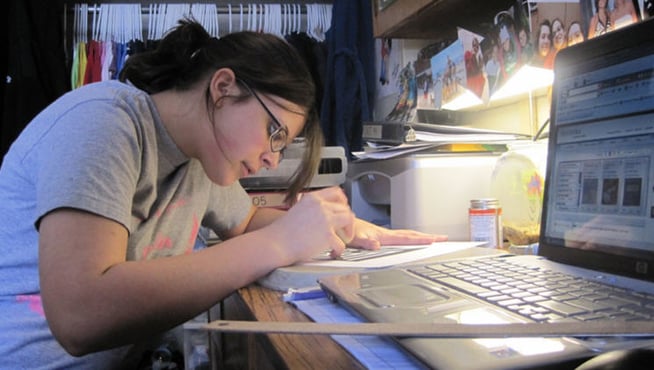 ENGLISH 106 VIA FLICKR CC 2.0 LICENSE
An excerpt from the CoSN Digital Equity Toolkit.
A digital equity solution that provides a student with precisely what he or she needs in order to complete homework may not implicitly advance digital equity for that student.
Stepping back for a big picture view, many students come from households in which others also depend upon robust connectivity to fully engage in work and life, and to maintain strong home-to-school connections. A parent, an older sibling, or other family member may be using shared connectivity or even a shared device.
If you were to simply ask lower-income families if they had Wi-Fi and a device, the majority would say yes. However, the Cooney Center, a Gates Foundation-backed team of researchers who undertook just such a mission, reported that "access to the internet and digital devices is no longer a simple yes/no question. Whether families have consistent quality connections and the capabilities to make the most of being connected is becoming just as important."
Further, according to their first-of-its-kind nationally representative survey of 1,191 low- and moderate-income parents with school-aged children (ages 6 to 13), among families who have home Internet access, half (52%) say their access is too slow, one quarter (26%) say too many people share the same computer, and one fifth (20%) say their internet has been cut off in the last year due to lack of payment.
The under-connection of low-income families, then, is a real issue, and while it may not be the purview of the school district to accommodate for all family members in a household, a more holistic approach will ensure that the school-aged children that school district does serve aren't reduced to little or no access due to the circumstances of their home environment, including some of the issues mentioned above. Whatever they may be, these types of issues and challenges will reveal themselves in results from a well-planned and well-executed strategy to gather one's own local information on what exactly is the case.
Survey, Survey, Survey
A key first step in addressing digital equity within your school district is to identify the scope of the problem. In other words, it is important for district and school leadership to be able to fully articulate the context for digital learning that their students engage in outside of school.
Teachers and school administrators may be generally aware of digital equity challenges within the district and may even know specific students who have limited access to the internet outside of the classroom. It is crucial , however, for districts to broaden this awareness with survey data. The U.S. Census Bureau began asking about computer and internet use in the 2013 American Community Survey (ACS). This new set of digital equity indicators collected at the community level may provide a useful starting point for conversations.
CoSN and the Friday Institute for Educational Innovation at North Carolina State University have created a set of recommended student and parent survey questions available to districts to free. (Sample surveys are in Appendix 1.) These surveys are valuable tools for districts to understand and track progress in addressing digital equity challenges and identify emerging issues.
Suggested categories of questions to include in a survey are:
Devices. What types of devices do students use to connect to the internet? Which of these do they use at home? Which of these are suitable for completion of homework? How many family members shared each device in the home?
Places. What places other than home do students spend time outside of school hours? Which of these places have internet connections that students can use? Are there places where it would be appropriate to add Wi-Fi connectivity for student use?
Speed. What is the speed of connection that students need to engage in anywhere, anytime learning? Do they have access to this speed of connection in their home and in other places in the community where they do schoolwork?
Another example is the Grundy Center Community Schools in Iowa who are an excellent example of how districts can assess students' out-of-school technology environments. Their survey was particularly comprehensive and also examined the out-of-school connectivity status of teachers. Collecting this data allowed the district to understand the nature of out-of-school connectivity experienced by students within the district's elementary school, middle school, and high school. This survey is a component of their district-wide Technology Plan implemented to direct in-school and out-of-school technology strategy for 2013-2019.
School leaders also need to identify which students face connectivity challenges outside of school. This level of data will enable school districts and students' parents/guardians to work together in securing the tools that students need for anywhere, anytime learning.