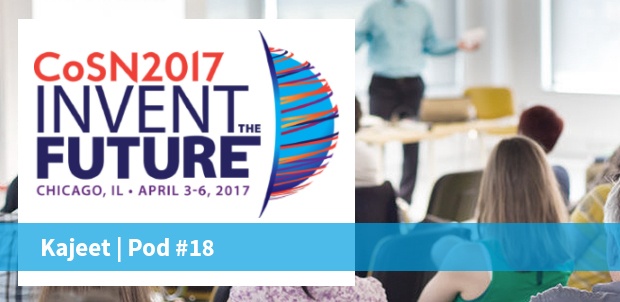 The CoSN 2017 Annual Conference heads to the Windy City this year from April 3 to 6. While in Chicago, CoSN will be celebrating their 25th anniversary.
This year's theme is "Invent the Future;" something only today's ed tech leaders could be tasked with. Sessions will focus on three areas, including:
Ubiquity and access: How do we ensure that all learners can truly be "continuously connected" both in school and outside?
Vision and leadership: How do we as leaders cope with complexity of constant connectivity as the new norm?
Pioneering innovation: How do we create educational ecosystems for continual improvement?
If you're interested in the ubiquity and access area, stop by our pod (#18) in the @InnovationCentral expo hall. Kajeet provides access for all students by providing filtered broadband outside the classroom.
In addition to the @InnovationCentral stop, we've listed out a few sessions focusing on digital education and personalized learning.
Implementing Digital Learning Programs: Keep it Simple, Secure and Scalable
The transition from traditional learning models to digital programs comes with many challenges, including how students can quickly and easily access content and how to protect student data. This session addresses those challenges and more with the concept, Keep it Simple, Secure and Scalable.
Boston Public Schools, Dallas Independent School District and Katy Independent School District lead the discussion with their strategies for providing access to content and tools, data security tips and how to scale implementations across large districts.
Mo' Data, Mo' (Decision-Making) Power
Do you find it overwhelming to manage and make sense of the data your school or district collects? Los Angeles Unified School District (LAUSD) developed a plan to replace their old, aging data reporting tool to one that meets their needs for real-time data. Hear from Shahryar Khazei, Chief Information Officer, LAUSD on how this district drives decisions from data, and how the data helps students.
Kajeet, From Pilot to Proven Success: Why Internet Outside the Classroom Should be Part of Your 1:1 Strategy
Many districts implement 1:1 programs without a plan for students who lack Internet at home. Springfield Public Schools realized the success of blended learning included access to the Internet outside the classroom.
In just over 12 months, Springfield has deployed 20,000 Chromebooks and 850 Kajeet Smartspots® – two-thirds of the way through their three-year plan. Discover first-hand from the Director of Technology, Bruce Douglas, on how to go from pilot to program success. Learn more about Springfield's success story before the session, and get ready for 1:1 in your district.
Learning Without Limits: Creating a 1:1 Personalized Learning Program
However, 1:1 programs also require input from the community and stakeholders. Oshkosh Area School District will share how they secured community support for their "Learning without Limits" 1:1 program. Hear how you can engage your district and students in a 1:1 program, along with guidelines for measuring program progress.
From Pre-K to AP: How Off-Campus Education Broadband Access Supports Instruction
Districts across the U.S. have connected their students to off-campus Education Broadband™ to extend learning. Join this session to hear from Michael Flood, the VP of Strategy at Kajeet as he highlights 11 programs covering both traditional and non-traditional academic environments.
Programs from Pre-K to high school Advanced Placement; Title I and Title III inclusion programs that serve the ESL and immigrant populations; and inner city, suburban and rural districts with 1:1 or BYOD environments. Every district will come away with some new ideas to improve academic outcomes by extending the learning environment beyond the traditional school walls and school hours.
We hope to see you at one of our sessions and in @InnovationCentral at pod #18.