Chromebooks have taken the U.S. classroom by storm. According to market research firm, FutureSource Consulting, the Google Chrome operating system is now 58 percent of school-purchased mobile devices in 2016.
Schools are purchasing more devices overall, and in the U.S. there is about one device for every four students. A number that is expected to keep growing reports FutureSource.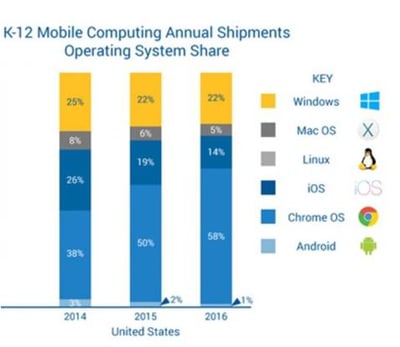 Source: FutureSource Consulting Ltd
With an expansive library of Chromebook applications, it can be overwhelming to decide. We pulled together a few apps and extensions you might consider for your classroom.
Chromebooks at Home
And don't forget about what students will need when they bring their devices home.
Security is an important factor to keep in mind once students leave school grounds. Ed-Tech Magazine provides three options to protect students and keep devices secure.
Use Google's default security settings. They provide multiple layers of protection, including: Automatic updates, sandboxing, verified boot, data encryption and recovery mode.
Buy additional security software. This will provide an extra layer of security outside of the default settings.
Set school-enforced security policies. A simple, but helpful, step. Password protect school-issued Chromebooks to ensure only approved users with the login information can use the device.
Lastly, when students take their devices home, not all will have Internet connectivity. Filtered, Wi-Fi hotspots provide connection for students outside the classroom. The Kajeet Smartspot® includes CIPA-compliant filters so students are accessing education-only sites. In addition, administrators have the capability to blacklist or whitelist certain sites and manage time-of-day controls.