There are over 13,500 school districts in the U.S. and 98,000 public schools that make up those districts, according to the National Center for Education Statistics. The average enrollment of those public schools is 3,659 students per school, reports Governing. While the number of schools per districts vary greatly (Los Angeles Unified School District has over 1,000 schools whereas other districts have two schools), one thing is consistent: the need to save time and money.

Every year, educators face numerous tasks and tight budgets. This is why the new District Dashboard feature of the Mobile Guardian mobile device management (MDM) solution is key. With this dashboard, districts can create consistency and increase transparency across their schools.
1. Customizable District Dashboard
Schools and districts have different device strategies. For instance, at the district level, the focus may center on the number of devices, whereas, at the school level, the interest is on the top websites visited. Districts have a much higher number of students and devices to oversee in an MDM, so different reports may need to be called out.

MDMs provide a lot of information and this dashboard is a place to organize the data that is most important to your mission. The customizable dashboard gives educators the flexibility to point out specific reports right when you log in.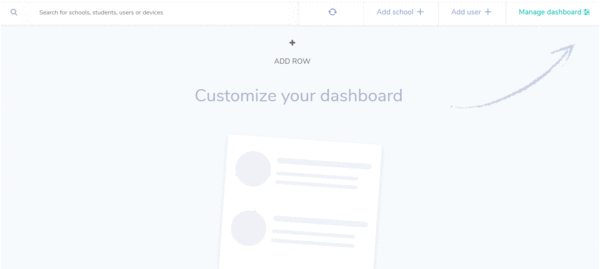 2. Centralized School Management
As stated above, some school districts have hundreds of schools, while others have as few as two. Either way, if you have an MDM for your district, it should be simple to add the school devices in your district to the platform.

The dashboard also provides a snapshot of the schools in your district and how many devices they have with the MDM solution. Here you can manage school configuration settings, such as iOS or Chromebook settings, without having to individually adjust each school.
3. Centralized Profile Management
A Profile applies actions and restrictions on devices. Set parameters for specific locations (i.e. off campus) or times, and assign the Profile to specific devices.

Profiles can be set and then applied to any school in the district.

The district also has the ability to determine which actions can be changed by the school. If your district has a schoolwide security policy, then the individual school can't change the settings. These profile restrictions allow districts to know all schools in their district have the same settings, adhering to the same rules.

We also demonstrate how profiles are set in our live presentations (virtual walkthroughs of the dashboard). Request one here today, and a Kajeet education specialist will reach out to you shortly.
4. Centralized Student Management
Remember earlier when we stated the average number of students in a public schools is 3,659? With the district dashboard, you can view and manage all 3,659 students and their devices in one dashboard.

You can easily see the school a student is assigned to, or change their school if needed, along with their assigned device.
5. Centralized Device Management
Hundreds of students often means hundreds of devices. Now you can manage all devices in your district from one dashboard. I'll let that sink in.

This dashboard allows district admins to bulk update all devices and know how many devices are in the district, including devices from home (i.e. BYOD).

You can add individual devices, see which school a device is assigned to, and view the current Profile attached to the device. If you have devices that change between schools, it's easy to adjust the Profile from the elementary school profile to the high school one.
6. Centralized MDM User Management
Lastly, you can see the district MDM users and their roles. If someone needs an admin role across the elementary schools in the district, it's possible with just a few clicks.

This also allows you to take advantage of the Parent Dashboard, and invite parents to use Mobile Guardian.
Saving School Districts' Time
Today's Technology Directors and their staff are busy with ed tech tools and ensuring everything is running smoothly. With the influx of devices for students (and staff), it can be a logistical juggling act.

The Kajeet and Mobile Guardian MDM solution creates consistency across schools in a district. And this MDM includes multi-OS support, so your district won't need to purchase multiple MDMs. By applying specific profiles across schools with the click of a button, you're saving time for IT teams at the district-level.

Along with saving time, the District Dashboard improves transparency, which means better insights and reporting. You can see all of your school's information from one place, and manage devices remotely.

It's a busy time in the life of an educator, but there are tools out there to help manage devices, with the level of flexibility and control you want.