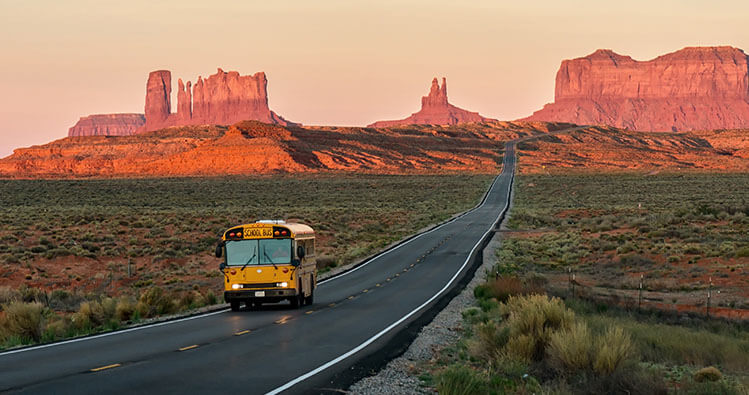 It was recently announced that the state of Arizona is using $38 million of the $57 million they received from the Volkswagen (VW) settlement to repower or replace old school buses.

School Bus Fleet reports, "Under Arizona's plan, up to $37 million will go toward purchasing around 300 new school buses in low-income communities across the state, replacing buses that are at least 15 years old and have more than 100,000 miles. The funds will be allocated to school districts with 60 percent or more students eligible for free or reduced price lunch, and to the Arizona State Schools for the Deaf and the Blind."

The application for this program opened on August 14 and closes on September 28. To find out if your school district is eligible for one of the 281 new school buses (number according to the Arizona Department of Administration estimation), keep reading.
Eligible School Districts
As mentioned above, eligible school districts must:
Have at least 60 percent of students eligible for free or reduced-price lunch.
Replace qualifying diesel school buses that are 15 years or older and have over 100,000 miles.
Minimum of one bus per eligible district, with a maximum of 10 percent of each districts' bus fleet.
An Arizona Department of Administration webinar hosted in July 2018 included this image breakdown of counties and the estimated number of new school buses.
Eligible buses must be:
Available Funding:
The part everyone is waiting for. School districts could receive either:
Up to $110,000 per bus to purchase new diesel school buses; or
Up to $135,000 per bus to purchase alternative fuel school buses.
According to the Arizona webinar, the Office of Grants and Federal Resources (GFR) recommends using a procurement vehicle such as the Mohave Cooperative.

To apply for this grant, please visit the Arizona site here.
Why You Should Create a Connected Bus
If you're one of the Arizona schools eligible for a new school bus, you should make sure it has the technology it needs to drive into the future (aka another 10 years on the road). New technologies deployed on the 21st century bus include: student Wi-Fi, GPS, cameras, telematics, and a whole lot more.

As schools become well-connected vehicles, there needs to be a factor that ties all the technology together. And that connecting piece is Internet access.

The Kajeet SmartBus™ solution provides Wi-Fi on the school bus, ensuring districts get the access they need to keep moving forward in the connected world while saving money and expanding their capabilities to integrate any Wi-Fi-enabled solutions.

Additionally, this solution travel time into instructional time by connecting students to filtered Wi-Fi on the school bus.

This solution extends the classroom and improves student behavior by providing them educational Internet to focus on, instead of causing disruptions. One Kajeet customer, Raytown School District in Missouri, saw a 45 percent decrease in school bus disciplinary referrals.

If you would like to include the Kajeet SmartBus solution on your new school bus, contact us today.

Our new Kajeet SmartBus Select™ program is the all-in-one package that alleviates the need for large, up-front costs. This program includes: SmartBus hardware, installation kit, installation services, data plan with 4G LTE connectivity, and GPS services. Plus, this cost can be included in the bus purchase cost from the Arizona settlement money.
Bringing School Buses into the 21st Century
Arizona using two-thirds of their settlement funds to update over 280 school buses is an important move in this industry. These funds will go toward new lower-emission diesel buses or new alternative-fuel buses. But these funds provide more than just reducing emissions.
"K-12 education remains our top priority. These dollars will go a long way towards making sure Arizona students are safely delivered to school every day. Additionally, putting these dollars toward the purchase of new school buses will free up existing funding sources, allowing school districts to focus on other capital needs to benefit students." – Arizona Governor Doug Ducey
Helpful Articles and Resources: