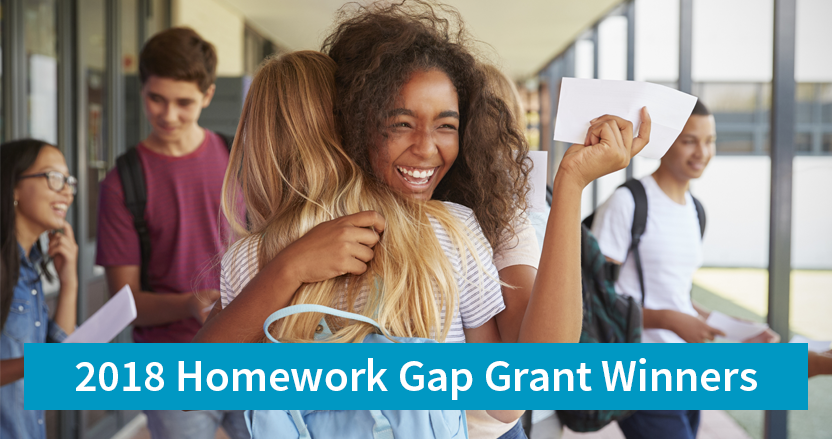 Kajeet is proud to announce the winners of the second annual Homework Gap Grant. Each applicant offered an inspiring story about how Kajeet can help their students succeed with filtered and managed mobile connectivity. Although we initially planned to award 15 grants, after seeing the continued need, Kajeet decided to double the number of winners to 30!
Grant recipients will receive either a 10-unit Kajeet SmartSpot® solution or 1 (one) Kajeet SmartBus™ solution powered by the Kajeet Sentinel® cloud platform, which includes safe, filtered Internet outside of the classroom for the 2018-2019 school year. Each school or district will pilot their technology programs with the help of Kajeet to track student success and increase connectivity. Of the 30winners, four districts will pilot the Kajeet SmartBus solution, and 26 will provide Kajeet SmartSpot (Wi-Fi hotspot) devices to their students.
who are THE homework gap grant winners?
The 30 winners are spread throughout the U.S. with various connectivity needs. Several school districts will use their SmartSpot devices to implement a library check-out program. The library check-out model allows schools to keep track of which students take the devices home and provide more students the opportunity to check out Wi-Fi access when needed.
A few larger districts in rural communities will take advantage of our SmartBus solution and provide Wi-Fi on activity buses. With Wi-Fi on these buses, athletes and students in extracurricular activities will be able to complete their homework while traveling to and from their events.
Kajeet is excited to see the impact made on these schools and districts and can't wait to get started.
where are the grant winners located?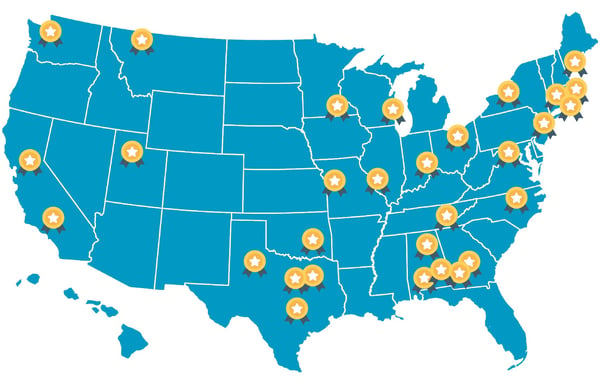 Without further ado, we'd like to introduce our 2018 Homework Gap Grant winners.
The 2018-2019 winners are:
Boaz City Schools, AL
Browning School District #9, MT
Coalgate Public Schools, OK
Conecuh County Schools, AL
Decatur County School District, GA
Dupo Community Unit School District 196, IL
Eufala City Schools, AL
Franklin County Schools, NC
Global Learning Charter Public School, MA
Grain Valley Schools, MO
Jersey City Public Schools, NJ
Lenoir City Schools, TN
Ludlow Public School District, MA
Martinsburg High School, Berkeley County Schools, WV
Milan Community School Corporation, IN
Moody Independent School District, TX
Norwood Public Schools, MA
Ogden City School District, UT
Peninsula School District, WA
Riverbank Unified School District, CA
San Marcos Consolidated Independent School District, TX
Ridgecrest Charter School, CA
Sheboygan Area School District, WI
Sheffield-Sheffield Lake City Schools, OH
South Portland School Department, ME
Spur Independent School District, TX
Waterloo Central School District, NY
Wills Point ISD, TX
Worth County School District, GA
Zumbro Education District #6012, MN
closing the homework gap, one grant at a time
Zumbro Education District, in Minnesota, is in the beginning stages of their 1:1 program, but after receiving a $20,000 grant they were able to purchase 60 Chromebooks for their district. Zumbro's mission is to have a fully functional 1:1 program for their students with a plan to focus on curriculum mapping and technology integration for the 2018-2019 school year. With the use of the Kajeet SmartSpot devices, Zumbro will be able to track academic success by increasing access to technology and Internet connectivity at home to close the Homework Gap.
South Portland School Department, in Maine, has provided 1:1 access to students from grades 3-12 for the past 16 years. Through robust investments in network infrastructure, digital resources, and training the district is able to provide 1:1 access as well as a Digital Learning Commons in the library for its students. A goal of South Portland Maine School Department is to eliminate the Homework Gap. Through use of the Kajeet SmartSpot solution the district is also able to provide Internet access for homeless students and those in refugee resettlement programs.
A major goal would be to completely eliminate the Homework Gap. We believe we can do this with the help of a few grants and the support of the community to continue funding this project through the operating budget or sponsorship once the Kajeet Homework Gap Grant expires.

-Andrew Wallace, Director of Technology
Congratulations again to all of the winners, and thank you to everyone who submitted an application. As schools continue to add digital programs to their curriculum, it's important to ensure all students have Internet access outside the classroom. If you'd like to get started with a pilot program to see how Kajeet will work with your technology program, let us know and we will be in touch.